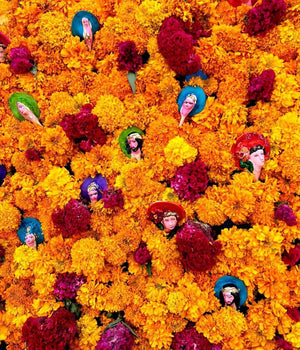 Day of the Dead Collection
It's time to prepare for our favorite season of the year! We'll be receiving shipments from Mexico all month long. Make sure to check our website daily for restocks and pre-order in advance to guarantee your items.
SHOP DAY OF THE DEAD
1 product
Oaxaca February Group Trip Application 2024
Regular price
$95.00
/
---
Join Luisa in Oaxaca for a once-in-a-lifetime experience and learn more about:
I

ndigenous Zapotec culture

Traditional Oaxacan Cuisine

Magical Surrounding Towns
Details:  This boutique trip is designed to be an intimate and submersive cultural experience. Luisa values each and every relationship she has developed with locals in Oaxaca and she will be introducing you to many people in her community who she considers like family.  If you want an authentic look into Oaxaca and you love artisan craft, food, culture, and adventure then this is the trip for you. 
About Luisa: Luisa is a Mexican-American journalist who has worked for both national and local news stations. She left the news world to launch her own company, Mexico In My Pocket. Mexico In My Pocket's mission is to show people a side of Mexico often overlooked in the media world. By the end of this trip, you're guaranteed to fall in love with Mexico and you'll want to start planning your next adventure to this amazing part of the world.
Trip Dates & Pricing:

Trip Dates & Pricing:

DATES | February 2-9, 2024
TRIP PRICE | Starting at $3500 per person
Double Occupancy = $3500 per person | $1750 DEPOSIT DUE TODAY
Single Occupancy = $4000 | $2000 DEPOSIT DUE TODAY
HOW TO JOIN | To join this trip, you must submit an application and be approved. Once you are approved, pay the non-refundable deposit and send us back the signed Terms & Conditions agreement. To select your accommodation (single or double occupancy), navigate using the drop down menu.
The remaining payment is due on November 31, 2023. Up until November 31, 2023 you can give up your trip spot at any time; however, you will forfeit the non-refundable deposit.
APPLICATION FEE | To avoid non-serious inquiries, we are now requiring a $95 application fee. Once you submit your application fee, we will email you an application and if your written application is approved, we will send you an invite to schedule a video call. After the video call is conducted, you will be notified via email if your application was in fact approved.
If your application is approved, we will send a detailed itinerary of the trip to your email. After reviewing the itinerary in full, you will have two weeks to pay the non-refundable deposit and to send the signed Terms & Conditions agreement + a copy of your travel insurance.
If you do not submit payment within two weeks, you will forfeit your place and we will offer it to the next applicant in line.
*APPLICATIONS CLOSE SEPTEMBER 30TH*
SPOTS AVAILABLE |  15 spots only.
What the Trip Includes:
7 nights at Boutique Hotel in Oaxaca.

Transportation to and from airport.

.
Majority of meals. Unless noted otherwise.
Activities mentioned on Itinerary.
Spanish & English Translation.
Private Driver to surrounding areas. 
Visit artisan studios and learn about the craft.
Tips for all meals, hotels, drivers, and activity guides.
Cooking class with traditional Oaxacan cook.
Sorpresas I can't share on here with you, but that you'll enjoy!
What the Trip Does Not Include:
Alcoholic beverages.

Airfare and/or other means of travel to/from Oaxaca
Packing materials
Incidental expenses
Tips for trip hosts
Required travel insurance
Meals not listed in itinerary
Extra excursions or events you plan on free day
REVIEWS:
"A week in Oaxaca with Luisa and Mexico In My Pocket was the best way to dive deep into the soul of the region. She connects the group with the spirit of Oaxaca by granting access to homes, shops, and stories of local artisans and chefs. Luisa has carefully taken the time to cultivate relationships with so many locals, which in turn opens the door to experiences for her groups that would be difficult to access without her." - Erica Connolly, Dallas Texas.
"On our trip to Oaxaca, I could tell that Luisa really put her heart and soul into showing the city and people she loves so much. She put together an incredible trip that felt so personally connected to the land and culture. Not only was it an honor to join on my first trip to Mexico, but it was so moving to witness American Mexicanas connect to their own roots. Luisa is truly creating such a unique and beautiful space that I haven't seen offered anywhere else." - Brit Alveno, Northfield, Minnesota
"My trip with Luisa and Mexico In My Pocket was nothing short of magical. I am a seasoned solo traveler and there is no way I could have created this experience on my own. The relationships Luisa has cultivated and the effort she puts into her planning is analogous to the artisans she highlights. The through-line is passion. The food I experienced, the beauty I witnessed, and the people I met were extraordinary. I'm leaving Mexico with a full heart." - Shannon Velasco, New York City
"Luisa, words can't explain how much I appreciate the experience you curated for all of us. I have traveled a lot, especially to Latin American countries, but never have I ever felt so immersed in a culture. Because of you, I got to meet so many inspiring local artisans and powerful girls in our group. I admire how you, using your own actions and words, help create a more holistic and colorful picture of a highly stigmatized country like Mexico. Now I can proudly and wholeheartedly say, Mexico is also in my pocket." - Stella Sun, China
"I always heard that Oaxaca is the heartbeat of Mexico. As a Mexican-American, I needed to visit this magical place. As a non adventurous person, traveling to Oaxaca, on my own was not happening. Then comes Luisa / Mexico In My Pocket and plans this immersive, stress free trip and it was finally my chance! This trip, was exactly that! I don't know how she did it, but she brought together a group of strangers on the trip of a lifetime! This trip was filled with a deep understanding of Oaxacan culture, food, and art, in a safe, stress free environment. The bonus, unexpected friendships, a lifetime of memories and a deeper understanding of myself. Can't wait to join her on the next adventure!" - Rosie Fregozo, San Mateo, California

"Memorable doesn't even begin to describe my trip with Luisa to Oaxaca. She created a trip that allowed me to experience the beautiful artisans and culture of this region. I'm so happy to share this experience with the people that went with us. I cannot thank Mexico In My Pocket enough for this moment in my life." - Anna Bass, Houston, Texas
INQUIRIES:
For more details, including our hotel accommodations, cancellation policy, terms and conditions, please email luisa@mexicoinmypocket.com.